There's an artist in all of us!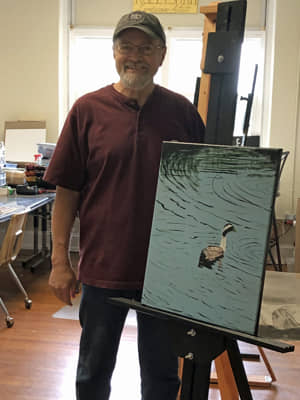 We have a full slate of art classes going on at The HUB Station. We offer classes through the AppState Community Music School (for youth), the Caldwell Arts Council, and from our local artists. Join us and find the artist who lives in you!
Our art classes are taught by experienced, engaging instructors who want to spread appreciation for arts and music. No matter your age or your stage in life, you are never too old to learn something new, and there is always something exciting and fun going on at our arts center in Hudson, North Carolina. Unleash your inner artist, quench your thirst for creativity, and learn something new by enrolling in one of our classes.
Examples of some of our classes include beginning drawing, art journaling, water coloring, acrylic painting, guitar, fiddle, and mandolin. Whether you have always wished you could play the guitar or have been drawn to painting for years, there is something for everyone at our arts center. And while you're here, visit our art gallery, spend time in our relaxation center, or rent a studio to further create and inspire.
Our schedule for art classes changes regularly, so contact us to see what's coming on the calendar and to book your spot. We're excited to have you join us for one of our classes to further your creativity and deepen your love for the arts.