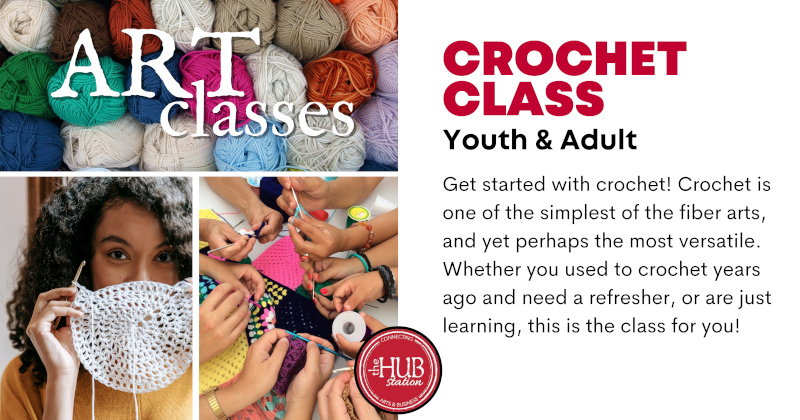 Crochet Class
Beginner crochet classes are the perfect way to learn how to crochet. Crochet is a quick and easy hobby, with professional-looking results. In just a few hours you can master the skills to create lovable crocheted projects that last a lifetime. In our beginner crochet class, we'll start at the beginning, talking about how to select different yarns, yarn weights, and their different uses, which crocheting hooks to use, and then stitch up a project together. This beginner crochet class is perfect for a total newbie or as a refresher if it's been a while since you had your hands on your hooks. We can tailor the crochet session to meet your skill level so that you leave the beginner workshop excited about what you've learned. Students from 4th grade to adults are welcome to attend.
Crochet Skills You Will Learn:
Different crocheting tools and their uses
How to chain or begin your crochet project, Single Crochet, Double Crochet, and Finishing Off (or ending a project)
How to Work in Rows
How to keep your edges straight
Different properties of yarn and the uses for various weights
Problem-solving for common crochet mistakes and challenges
Date: Thursdays – hosted weekly! Come when you can!
9/26 – 12/11 (skip 11/23)
Time: 3:30 pm – 4:30 pm (1 hour class)
Location: Activity Center – Second Floor – Art Classroom
Price: $10.00 per class
Teacher: Beverly Mihelich
Call or text Beverly for more information or to register (828) 292-0835. Classes have a six-student maximum.
About The HUB Station
The HUB Station is a hub for artistic creation and business development located in Hudson, North Carolina that blends the past with the present.