As the weather warms up and the days get longer, many people start looking for outdoor activities to enjoy. One popular event that takes place during the summer months is the Third Thursday Concert on the Lawn series at The HUB Station. This outdoor music festival has become a favorite among locals and visitors alike, providing a great opportunity to listen to some fantastic music, spend time with friends, and soak up the beautiful summer weather.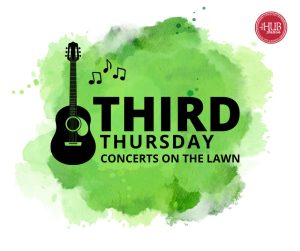 The Third Thursday Concert on the Lawn series takes place on, you guessed it, the third Thursday of the month in April, May, August, and September. Each concert is held on the front lawn of The HUB Station and features a different band and food truck, making it an excellent opportunity to enjoy a new band and try new cuisine. The series features a diverse lineup of local and regional musicians, spanning a wide range of genres from rock to blues to country and everything in between.
The concert series is more than just live music, though. It's a chance for the community to come together and enjoy some of the best aspects of summer. Attendees can bring blankets and chairs to sit on, grab dinner from one of our rotating food trucks, and enjoy the beautiful scenery while listening to some incredible live music. 3 Doors Down Beverage Company, our in-house craft beer and wine bar, will be offering everything from cold beers, wine, and cider to gourmet snacks.
One of the great things about the Third Thursday Concert on the Lawn series is that it's a family-friendly event. Children and pets are welcome. The atmosphere at the concert series is always upbeat and positive, with people of all ages coming together to enjoy the music and the warm summer evenings. It's a great opportunity to make new friends and connect with old ones, all while supporting local musicians and enjoying the best of what the season has to offer.
If you're planning to attend the Third Thursday Concert on the Lawn series, be sure to check the schedule and plan accordingly. Be sure to bring sunglasses, and don't forget to pack a blanket or chair to sit on and enjoy. 3 Doors Down Beverage Co. opens at 3:00 pm, food trucks start serving at 5:00 pm, and the live music starts at 6:30 pm. Plan to arrive early to grab that perfect spot!
In conclusion, the Third Thursday Concert on the Lawn series is a fantastic way to spend a summer evening. With great music, delicious food and drink, and a fun and welcoming atmosphere, it's a must-attend event for anyone looking to make the most of the season. So gather your friends and family, pack your chairs, and head out to enjoy the best of what Hudson, North Carolina has to offer!