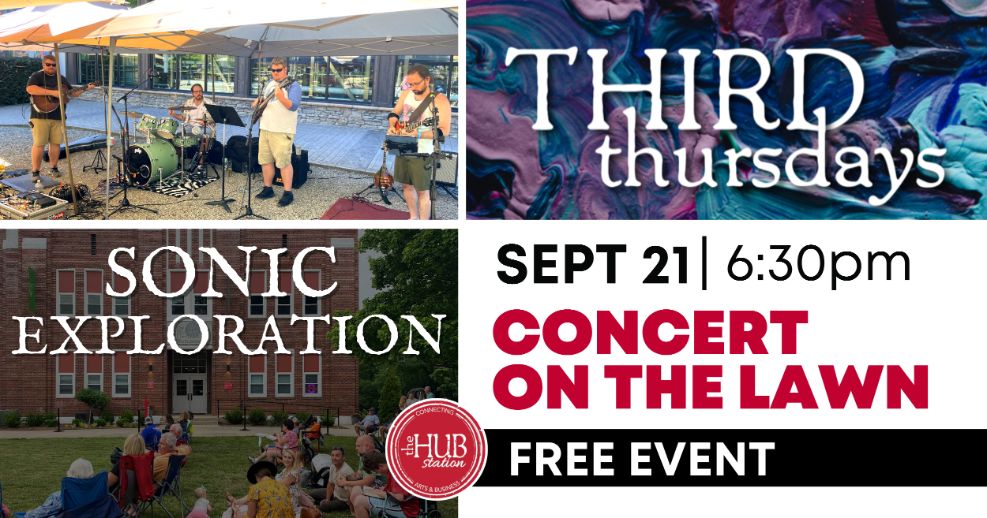 THIRD THURSDAY CONCERT ON THE LAWN WITH HEAVY MOUNTAIN STRING BAND
Date: 8/17
Time: 6:30pm – 8:30pm
Location: Front Lawn – Art Center
Join us for Third Thursday! A monthly event centered around musical experiences for everyone to enjoy!
Grab your friends, family and favorite lawn chairs for an evening concert on the front lawn of the HUB Station! Our featured band will be Heavy Mountain String Band. A little Jam Band from the South Land. Serving up a unique blend of Americana, Alternative, and Classic Rock. With a range of influences from The Doobie Brothers and RHCP to Stone Temple Pilots and Zach Bryan, The Heavy Mountain String Band craftily weaves their love of music and life experiences into a menagerie of sound that is truly their own.
3 Doors Down will be open from 3-9pm for all your craft beer and wine needs. They have a selection that is unmatched in Hudson! 40+ different craft beverages and 20+ wines. Soul Food Island will be serving delicious Caribbean, Soul, and everyday street foods!
About The HUB Station
The HUB Station is a hub for artistic creation and business development located in Hudson, North Carolina that blends the past with the present.