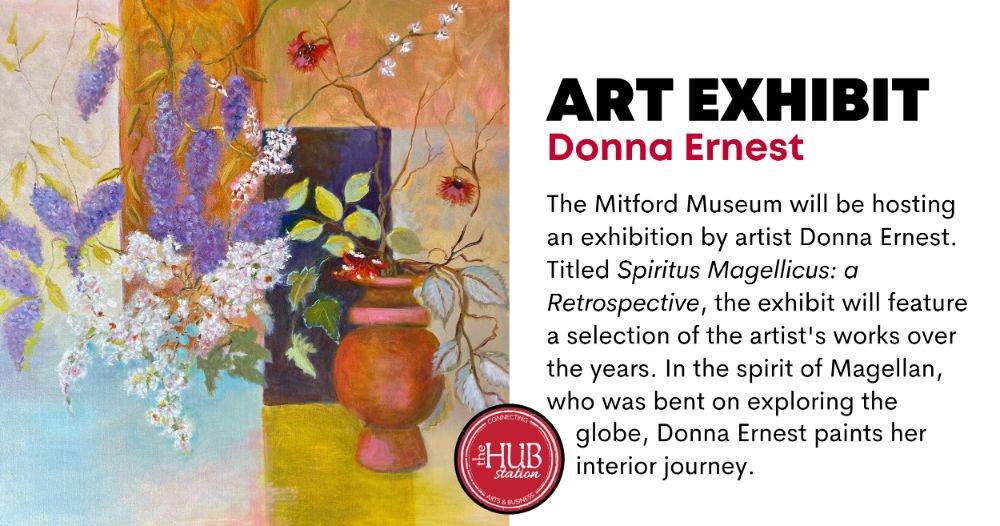 SPIRITIUS MAGELLICUS: A RETROSPECTIVE BY DONNA ERNEST
Date: On display 5/18-6/16
Location: Gallery Hall – Arts Center
Starting May 18, The Mitford Museum will be hosting an exhibition by artist Donna Ernest at the Hudson Arts Center outside the Red Awning Gallery. Titled Spiritus Magellicus: a Retrospective, the exhibit will feature a selection of the artist's works over the years.
In the spirit of Magellan, who was bent on exploring the globe, Donna Ernest paints her interior journey. "Life," she says, "can be an endless adventure, rooted in curiosity to discover more, feel more, and nurture our seed of creativity."
Donna weaves her painted stories from the personal experience of family, a passion for gardening, a love of form and color, and the divine connectedness of people and Nature. Her work is in private collections throughout the eastern U.S. She lives in Charlottesville, Virginia, with her husband, Albert, and a bevy of happy dogs.
About The HUB Station
The HUB Station is a hub for artistic creation and business development located in Hudson, North Carolina that blends the past with the present.