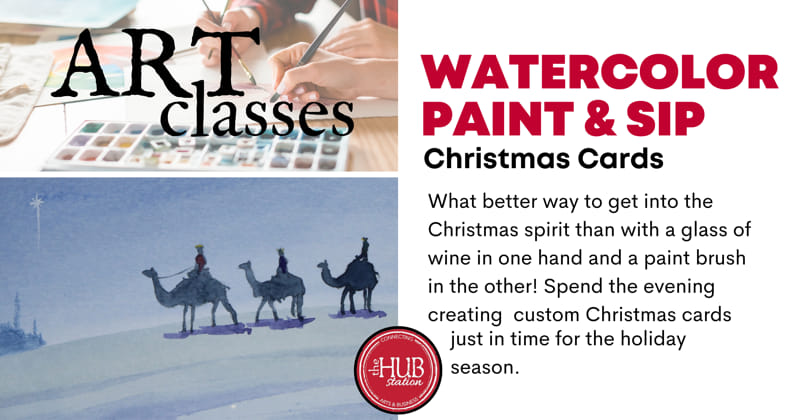 PAINT & SIP CHRISTMAS CARDS
🎨 Join us for a festive and creative experience at a Paint and Sip Watercolor Christmas Card Workshop on November 17th! 🎄 Unleash your artistic flair under the guidance of the talented artist, Zan Thompson, and craft personalized watercolor Christmas cards that will spread holiday cheer.
🖌️ In this hands-on workshop, participants will learn essential watercolor techniques while sipping on delightful beverages purchased from 3 Doors Down Beverage Co. in a cozy, relaxed atmosphere. Whether you're a seasoned artist or a beginner, Zan will provide step-by-step guidance to ensure you create beautiful and unique Christmas cards that will be cherished by your loved ones.
🎁 Don't miss this opportunity to get into the holiday spirit while expressing your creativity! Limited spots available, so secure your spot today. Join us for an evening filled with laughter, artistry, and the joy of creating something special. Reserve your spot now and let the festivities begin!
Date: 11/17/2023
Time: 6:00 pm – 8:00 pm
Price: $40.00 all materials included
Register: https://www.zanthompson.com/workshop/33356/paint-and-sip-christmas-tree-cards
Teacher: Zan Thompson
Call or email Zan for more information (828) 502-9725 or [email protected].
About The HUB Station
The HUB Station is a hub for artistic creation and business development located in Hudson, North Carolina that blends the past with the present.